Propulsion system with duck legs for paddle board

In addition of MAC DUCK, L'Aquaphile manufactures 5 other products which are briefly presented here (click to go directly to the desired device):
See the MAORA video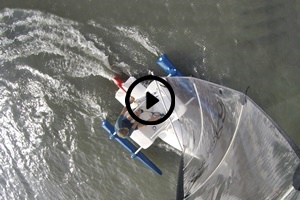 The mini trimaran dismountable for leasures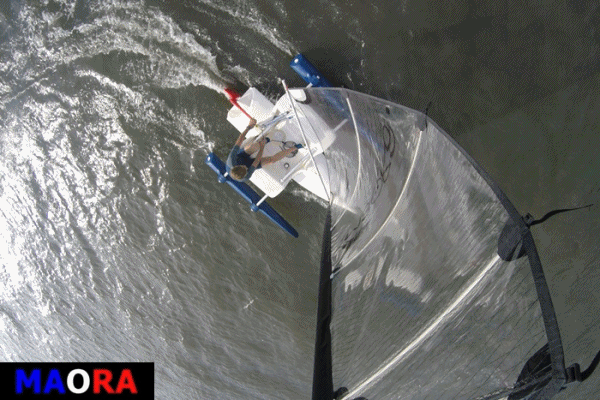 The MAORA is an innovative mini trimaran of 3 meters and 68 kg, dismountable, transportable on the roof of a car. It can be assembled by one person in less than 15 minutes.
Lively, fast, agile and full of tricks it will give you sensations that other leisure sailboats do not offer. It turns and gybes in a flash.
Its unbraced rigging provides power and flexibility. MAORA is a very pleasant and safe boat, always flat, even in gusts.
It can be used up to 15 knots (30 km/h) of wind when learning and 20 knots (40 km/h) for a more experienced sailor.
Features:
- The boat is composed of 4 unsinkable elements in rotomoulded polyethylene: the main hull (self-emptying), the cockpit, 
and the 2 side floats. 
- Two sails are available : Standard 6 mē or, in option, Sport (reinforced trasparent monofilm) 7 mē
- Length x width: 300 x 250 cm 
- Height: 485 cm 
- Draft: 20 cm (the MAORA has no daggerboard)
- Weight: 68 kg      
- Floatability: 400 liters      
- Maximum recommanded load: 112 kg 
- Maximum recommanded users: 1 adult and 1 children 
- Navigation category: D
- Certification and CE marking 
- Zero CO2 emission


See the PEDAYAK video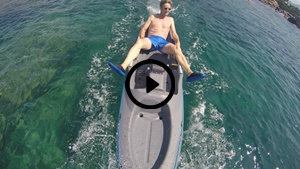 PEDAYAK is a kayak with pedals and propeller, fast, manoeuvring,"hands-free".
By its design and characteristics, it completely renews the current practice of kayaking.
Concentrate of innovation, it is the culmination of 10 years of R&D. 
PEDAYAK is a real mini boat, an elaborate version of a 360 cm long "sit-on-top" self-draining rotomoulded polyethylene 
kayak. 
It has the same systems as a real boat on a restricted space, which are: 
- A high-performance propeller propulsion system 
- A steering system with rudder and rudder. Their combination (the rudder is located just behind the propeller) allows 
manoeuvrability and a surprising agility on this type of boat. 
- On option: a rig with a 3.6 m² sail. Being the only kayak in the world with keels, it is also a high-performance, seaworthy 
and stable sailing boat that can sail upwind.
The PEDAYAK range includes 7 products which can be combined each others into 21 differents models:
PEDAYAK
PEDAYAK Electric
KIT TRIO
KIT PRAO
KIT GRAND PRAO
KIT DUO
RIG (SAIL)
The simplest and cheapest diving kit in the world
EAZYDIVE is a low pressure full diving kit, allowing 60 mn dives to 10 meters deep

See the EAZYDIVE video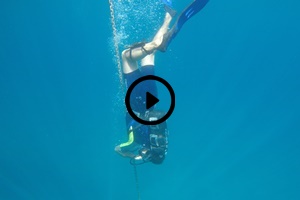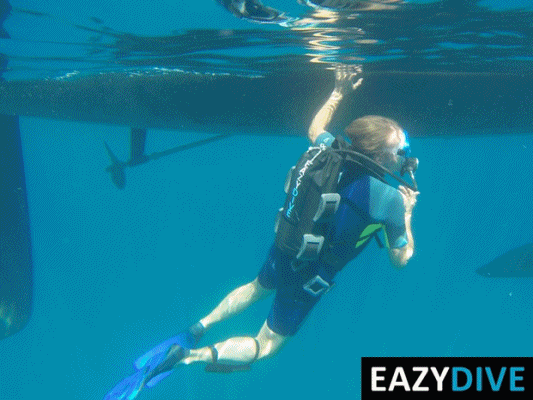 The innovative EAZYDIVE low pressure diving system can be used in 3 ways:
1. Scuba diving: The EAZYDIVE tank is inflated up to 12 bars by the compressor. It allows a dive of about 5 minutes.
2. Hookah diving: The diver is permanently supplied by the compressor through a 20 meters long air hose. It allows 
the dive to be extended up to 60 minutes. 

3. When using the hookah you can choose to have it flowing either directly into the regulator or into the tank.       
It is the only scuba diving system in the world that allows such possibilities.
See the VELOSUB video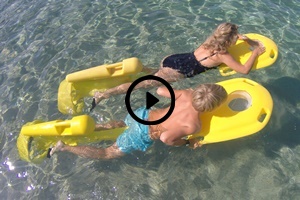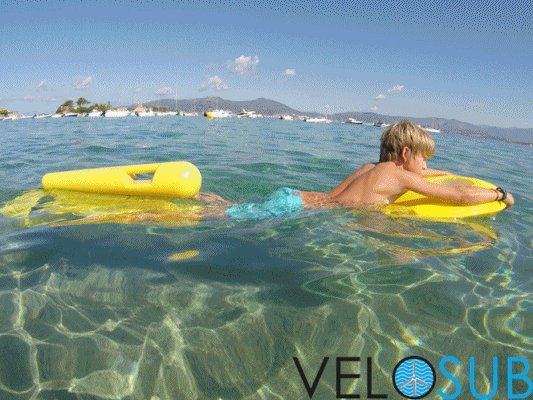 VELOSUB & SUBALO are two pedal powered aquatic vehicles for water sports, simple, funny, fast, and easy to ride. They are brand new, world unique, and environment friendly innovations.
No need for lessons. You can move around twice faster than if you were swimming or finning, with equivalent effort.
You can safely perform "aquatic strolls", and easily look underwater through the underwater vision glass screen incorporated.
The practice of VELOSUB & SUBALO results in a natural "aqua-gym". It provides you a massage, fitness and relaxing effect of the water on your body. It brings you wellbeing, contact with nature and a soft and pleasant approach of the aquatic world: sea, lake, river.
VELOSUB is riden laid frontside. It is faster and more snorkelling oriented than SUBALO. Put your feet on the pedals, catch the handles on the forward float, and go! As soon as you start to pedal you immediately take speed. The speed increases with the pedals' rotation speed. The faster you go, the easier to turn. A mere move of your hand on one side or incination of the body easily stear.
See the SUBALO video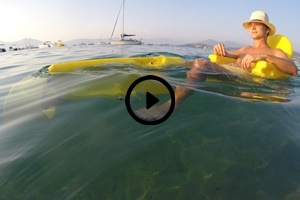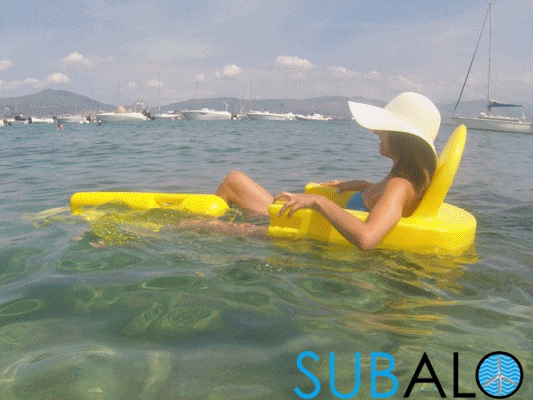 SUBALO is riden sat down, with an inclined position of the back allowing comfort and efficient pedalling.
Adjust its length according to your height, in order to gently place your feet on the pedals. As soon as you start to pedal 
SUBALO cruises effortlessly pulled by the propeller in front of the device. SUBALO's floatability allows you to get your
chest out of the water. The speed increases with the pedals' rotation speed. A mere move of your hand on one side or 
the incination of the body easily stear.